Wirutex will be present at LIGNA 2019, Hall 11 Stand A12. The exhibition scheduled in Hannover, Germany, from 27 to 31 May 2019, will be a chance to present our new products and solutions dedicated to the processing of wood and advanced materials.
We have always been keenly aware of changes in the market and of the requests made by artisans and large industries, with whom we have developed a series of solutions that are in line with one of the emerging trends: tools for machines used with wood but capable of machining no-wood materials, plastics and composites.
The fair
From 27th to 31st May, Hanover will be hosting one of the world's most important fairs given over to woodworking machines and tools - Ligna 2019. An event with an increasingly international profile, as the numbers show: 130,000 square metres for 1500 exhibitors from over 50 countries. These figures suggest that Ligna 2019 is going to break all the records.
In every sector represented at the fair, the key word will be "innovation" - an incessant trend dictated by the wide variety of materials available on the market (and which are often difficult to process) and the constant request for personalised products.
Flexibility and automation will therefore be vital characteristics of the new technologies for working wood and finishing surfaces; and not forgetting process optimisation, a crucial strategy for reducing production costs.
The processing of plastic and composite materials: one of the focuses of LIGNA 2019

Exhibitors at the previous LIGNA events clearly showed how woodworking machines can be used not only for wood but also for plastic materials, composites, and panels or materials for insulation and construction purposes. This is a topic that's attracting more and more attention, as a survey of the visitors to Ligna 2017 revealed: 51% of those interviewed affirmed that their companies work with "non-wood" materials too.
Other issues at the heart of Ligna 2019 will be digitalisation and the concept of integrated production, thanks to which both small and large furniture businesses can bring new ideas and projects to life within the space of a few months, rather than a few years as in the past.
Over the five days of Ligna 2019, woodworking tools, machines and systems - in a modern context featuring digitalisation, automation, IoT platforms or collaborative systems - will be the stars of the show; as Andreas Gruchow of the Deutsche Messe Board of Directors explains, "for this sector, Ligna is an appointment with innovation, because many exhibitors align their development cycles with the scheduling of the event".
As mentioned above, the woodworking sector is facing new challenges due to the new materials, increasingly technological machines and the definite push towards product personalisation, and these challenges call for more efficient, high-performing tools.
Wirutex hi-tech tools will be taking part in Ligna 2019 with a series of innovative products in keeping with the market requirements: tools for machining both wood and non-wood materials, conceived thanks to the most recent investments in R&D.
Ligna 2019: the 3 main areas of focus in 2019
This year too, the organisers of Ligna have announced the main topics that will be highlighted during the event:
Integrated Woodworking – Customised Solutions
Smart Surface Technology
Access to Resources and Technology
"Integrated Woodworking – Customised Solutions" will show visitors the future that's waiting for them. It will correlate the increase in production system efficiency with the various possible applications of IoT, such as Condition Monitoring or Predictive Maintenance. The central theme - technological but with cultural repercussions - is the presence of collaborative devices like AGV or Cobot, and a smart factory assistant to aid the operator.
Another driving factor behind these new developments is the growing tendency to create tactile surfaces using materials containing wood or even solid wood. "Smart Surface Technology" will look at the innovative technologies for producing these surfaces, with special reference to digital printing which, in the industrial field, is gaining ground compared with relief printing (in economic terms too).
The third Wood Industry Summit, "Access to Resources and Technology", is aimed above all at those working in initial wood processing, to help boost their access to the new developing markets.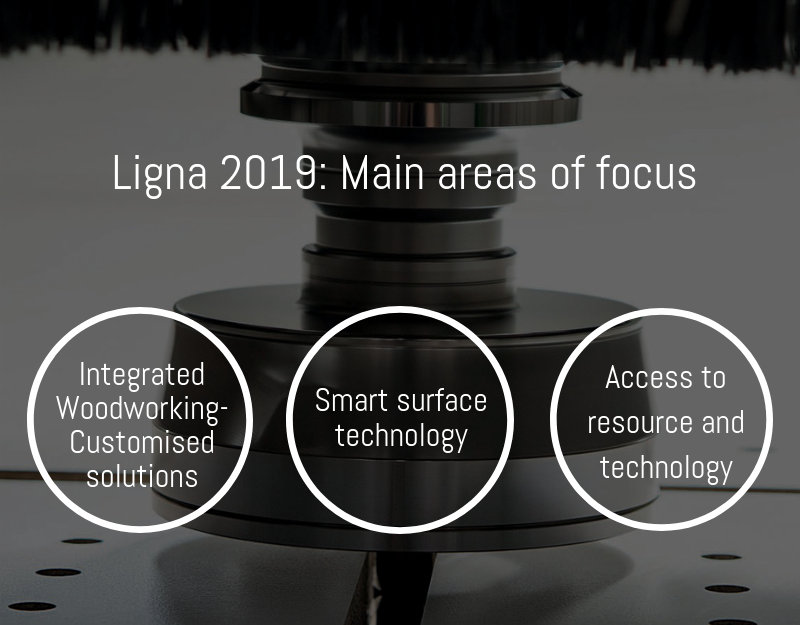 A look at the Italian market
2019 is likely to be a year of confirmation for the Italian woodworking machinery sector, despite the general economic and political uncertainties making themselves felt throughout the country.
It's a recognised fact that 2017 was a year of notable growth, followed last year by a period of consolidation. The most encouraging data emerging from this trend relates to the renewal of the machine fleets in companies working with wood and wood composites; for this reason, there'll be less need to make new investments in the short term, as shown by the data published by Ufficio Studi Acimall for the third quarter of 2018.
Overall, in fact, they reveal a slight slowdown in orders, although Italian companies can boast a 14.7% increase in internal orders compared with the same period of 2017. Exports fared less well, falling by 10.9% in the period July-September 2018 (again, compared with the previous year), but this figure is justified bearing in mind the exceptional results of 2017 with regards foreign orders.
In any case, a glance at the turnover for the third quarter shows that the sector is in good health - according to Acimall, it grew by 12.2% compared with the same period of 2017.
You can find Wirutex in pavilion 11, stand A12 at Ligna 2019.