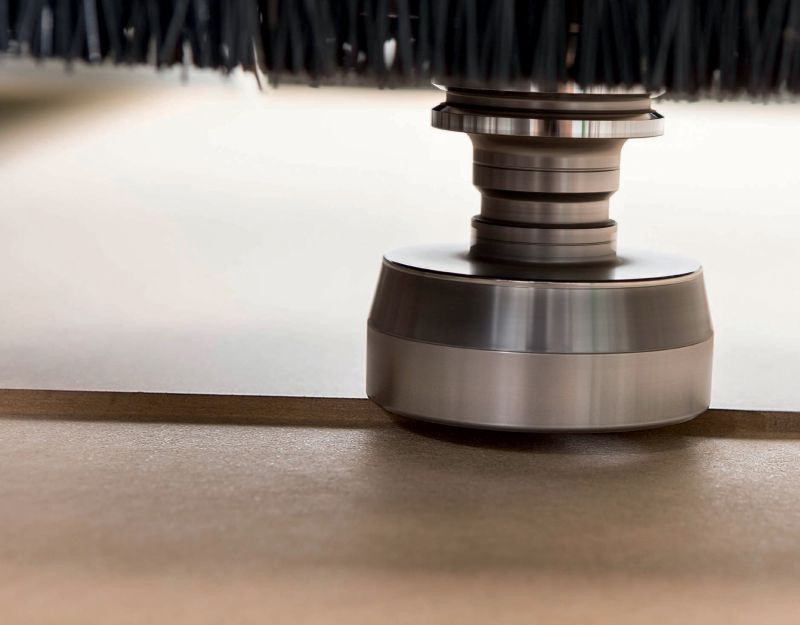 When we talk about wood (or other materials) processing techniques, surely one of the most important yet delicate techniques, is Nesting. The term Nesting is used in this specific sector to indicate the optimised sectioning of a panel on CNC - computerised numerical control work centre - using specific tools.
Nesting allows for productivity and efficiency increases, while maintaining high quality standards and rapid delivery times.
Of the various operations that can be carried out, the most common are nesting of furniture doors and parts, engraving on solid wood, panels and doors.
What does Nesting mean?
Nesting is an automatic optimisation procedure for cutting in order to reduce spaces and waste on the panel. Thistype of automatic machining considerably reduces production times, as a single passage in the machine allows all the pieces needed to be cut, with minimum waste: for example, it is possible to cut and shape all the wood pieces that are needed to make a certain piece of furniture.
In addition, this type of machining allows the company to offer personalised production of each order, thus providing any special request made by the client.
In brief, this process allows more parts to be positioned, which have already been designed using CAD modules, inside a single work surface and then marks routes that the nesting tools must use, thus creating precise, pre-set cutting patterns based on the material undergoing machining.
The benefits of the Nesting process
Nesting technology was created about forty years ago, with the appearance of increasingly sophisticated computers available to large companies, and from that moment, this process has developed and progressed continuously.
Using this process in producing materials such as wood, cardboard or sheet metal is a production organisation technique aimed at reducing raw material wastage to a minimum.
Over the years, this optimisation process has increased thanks to the appearance of specific 3D CAD/CAM software that organises your own nesting projects by reducing the consumption of materials and processing times.
To understand how this software is used even better, just think of the companies that need to produce complex, always different parts: thanks to these programmes, it is possible to plan the cut starting with the parameters that are absolutely essential.
Also, automatic modern Nesting software optimises productivity by trying to suggest the same cutting patterns that have already been designed and stored in a kind of virtual library that can be accessed at any time.
Which tools are used for the Nesting process?
If on the one hand, the advantages linked to the Nesting on wooden or similar material panels are all too clear, the choice of cutting tools to use is a more delicate matter.
Let's start with the assumption that successful nesting is achieved with the use of specific tools, such as:
specific nesting burrs with tungsten carbide or heavy metal body, made with heat-resistant materials
burrs for support panels (for cleaning the panel if the CNC carries out other machining processes)
thermogrip or hydrogrip chucks
turbine/chuck for dust extraction
The important variables for choosing the right type of tool diameter (D) are closely linked to the panel thickness (H) and the type of material machined.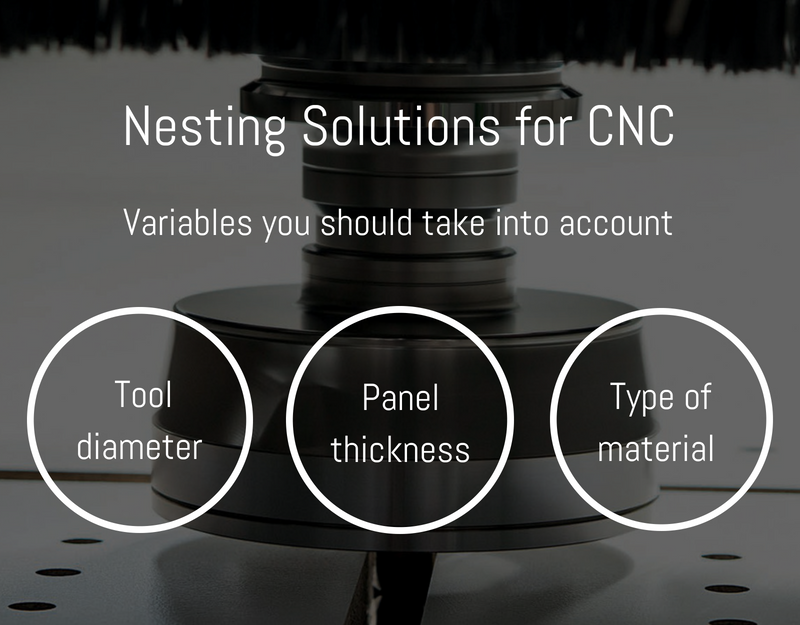 The correct ratio between these 3 parameters - tool diameter (D), panel thickness (H) and type of material - is of fundamental importance for achieving:
best tool performance possible

removal of chips

good cut quality

optimal working conditions for the electrical chuck

optimised speed for production cost reduction
Why choose Wirutex solutions for Nesting operations?
We have talked about Nesting as a truly efficient automatic production process that can aid the production processes in both quality and production terms.
Wirutex hi-tech tools has created a dedicated Nesting Solutions programme, thanks to their decade of experience in the wood, plastics and aluminium machining tool technology sector.
Thanks to constant research in innovation and client-based tests, we have created a range of nesting tools that allow maximum finish on various types of materials.
Our solutions include router bits with heavy metal bodies and the use of aspiration chucks/turbines Aerotech®.
Aerotech® is a new system that combines a high-precision chuck and suction turbine in one single product. A revolutionary product that captures dust and chips, channelling them to the machine's suction system.