Planners, designers and manufacturers all agree: composite wood panels and decorative surfacing have completely changed our approach to planning and design, opening up new horizons for both the construction and the furniture industries
This article provides an overview of the main areas of application and technical features of these materials with special emphasis on the furniture sector.
These are the topics we will talk about:


Composite wood panels: features and advantages
The great flexibility, sustainability and affordability of composite wood panels makes them the ideal product for the creation of innovative solutions, with a wide range of possible uses both indoors and outdoors.
The panels are composed of a wood matrix with the addition of special polymer resins and additives commonly known as reinforcements.
The key advantages they offer include their appearance, which is imilar to ordinary wood but less expensive, and the ability to resist extreme temperatures and heavy weights. They also offer better insulation than other materials. They are more durable, don't dry out, don't discolour, require little maintenance and are not subject to attacks by insects and moulds.
Simply put, composite wood panels offer properties and levels of reliability typically associated with plastic along with the innate elegance of the natural element, all in a single product.


"Environmentally-friendly" partners for decorative surfacing
Another peculiarity of composite wood panels is that they are entirely recyclable and provide the perfect "base" for decorative surface materials like thermally fused laminate (TFL), decorative film, high pressure laminate (HPL), 2D and 3D laminate, wood veneer and decorative paper. This wide range of solutions will be discussed in greater detail further down.

The main types of composite wood panels

Let's take a closer look at some of the most widely used panels, which include:


Medium density fibreboard (MDF)
Chipboard
Engineered wood siding and trim (EWST)


1. Medium density fibreboard (MDF)
MDF is composed of cellulose fibres mixed with a synthetic resin or other glue and compacted using heat and pressure.
MDF panels come in a variety of sizes with different physical properties: end product's made from MDF can be designed to meet precise specifications.


Main areas of application


Kitchen furniture
Office furniture
Store display cases
Cupboards
Laminated flooring
Doors, doorposts and overlays
Lamination and finishing
Embossing
Panelling
Moulding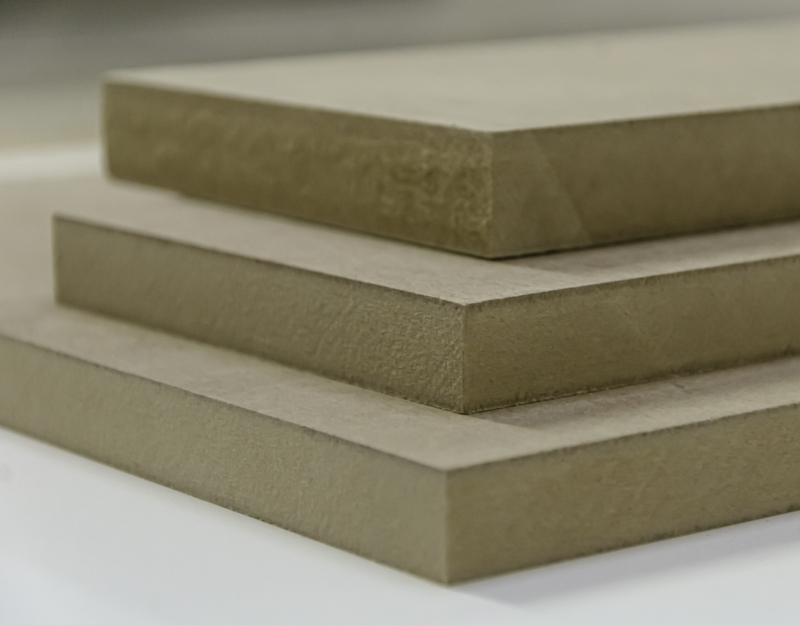 2. Chipboard
Chipboard is a composite wood panel composed of cellulose-based particles of various sizes. The particles are bonded together with a synthetic resin or using heat and pressure.
The size and shape of the particles, resin levels, density and manufacturing process are all adjusted to provide an end product with properties specifically suited for the given area of application.
Modern chipboard panels provide manufacturers with consistent quality and with the flexibility of design required from rapid and efficient manufacturing lines: for the creation of quality consumer products.
Main areas of application


False ceilings
Kitchen furniture
Household and office furniture
Flooring
Store display cases
Cladding for stairs
Shelves
Door cores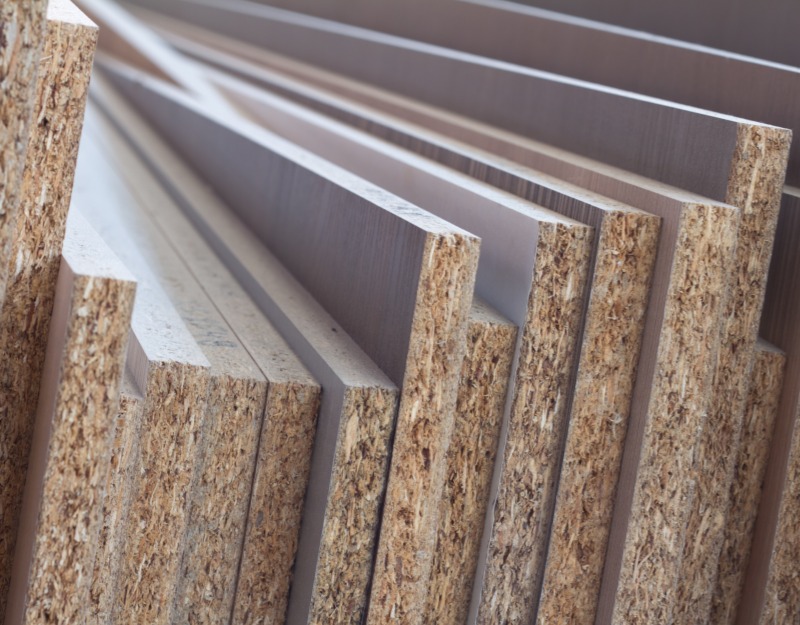 3. Engineered wood siding and trim (EWST)
Engineered wood siding and engineered wood trim are mainly produced with interlocking lignocellulosic fibres, which are bonded together using heat and pressure. These advanced materials can be designed to offer greater moisture resistance, dimensional stability and protection against moulds and termites.
This category of composite wood panels is designed for both indoor and outdoor applications and preserves the appearance of traditional wood.
The engineered properties extend the material's lifespan to various decades and help preserve its original appearance.
Modern engineered wood siding and trim panels are highly versatile and available in multiple formats, including some with sophisticated veneers or relief surfaces.
Main areas of application


Indoor and outdoor finishing
Siding and trim


Decorative surfacing
As has already been stated, composite wood panels provide the ideal substrate for decorative surfacing. They are affordable, standardised, uniformly resistant and devoid of defects.
Modern decorative surfacing has achieved new levels of realism.
Deep sophisticated patterns can be paired with matt and polished finishes to achieve a wide range of looks for both residential and commercial settings, while offering superior fidelity and durability.
Decorative surface materials ensure elegance and are highly functional and reproducible. They are the perfect way to cover and decorate composite wood panels for wardrobes, floors, furniture, false ceilings, windows, doors and shelves used in an incredibly wide range of settings.
Decorative surfacing falls into two categories:


Overlays
Coatings (these may consist of liquids or powders)


Some of the most common overlays include:


High-pressure laminate (HPL)
Thermally Fused Laminate (TFL)
3D Film overlays
Decorative films
Decorative paper


1. High Pressure Laminate (HPL)
HPL is produced by bonding multiple layers of paper saturated with phenolic resin.
As the resin hardens the layers of paper form a single laminated sheet. The end product is one of the toughest decorative materials, capable of resisting wear, chemical aggression and even fire.
Chipboard and MDF are the surfaces that work best with HPL, which offers excellent performance on both horizontal and vertical surfaces subjected to major insults.
Main areas of application


Surfaces for tables and workbenches
Flooring
False ceilings
Furniture


2. Thermally Fused Laminate (TFL)
TFL is produced by directly binding a sheet of decorative paper saturated with phenolic resin to a substrate (composite wood, for example) by applying both heat and pressure.
Decorative TFL panels can be crafted to achieve optimal visual properties and performance.
Surface patterns are created by pressing the surface under steel plates with decorative designs that give greater realism to the wood grain, stone or abstract design. The steel plates can also be used to create or adjust the level of surface gloss.
Chipboard and MDF are ideal substrates for thermally fused laminate, due to their being standardised, uniformly resistant and devoid of defects.
Great progress has been made with TFL over the last few years. The advent of matt finishes and patterns has completely removed any reference to plastic. Consumers appreciate both the appearance and performance of today's TFL.
Main areas of application


Laminated flooring
Studio furniture
Display cases
Shelves
False ceilings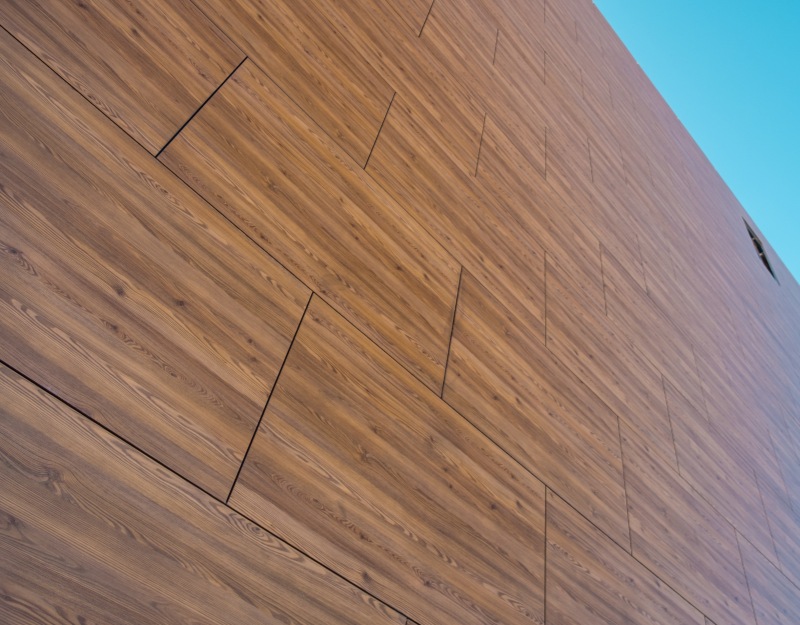 3. Films
Known as rigid thermoformable foils (RTF), 3D laminates (3DL) and 2D laminates (2DL), these materials consist of sheets of thermoplastic film.

Thanks to these materials, the end user is free to design components whose surfaces can take on different shapes, with seamless edges and without requiring specific treatments for the edges. In addition, designers can use film overlays for personalised shapes and to incorporate holes, logos and concave or convex surfaces.
These overlays are available in a solid colour or printed.
The films used for 3DL and 2DL are thermoplastic, which means that they soften when heated; this allows them to take on the shape of the substrate before they cool and solidify.
Main areas of application


Cupboards
Wall panels
Furniture
Shelves


4. Decorative films
Decorative films are paper-based overlays also known as "saturated" overlays.
The quantity, method and type of saturation, as well as the type of adhesive and the substrate used all affect the performance offered by the finished product; the way the material behaves during cutting or machining is also affected.
Finishes are often applied to the saturated sheets to increase their durability and scratch-resistance.
Main areas of application


Exteriors
Wardrobes and doors
Furniture surfaces
Store display cases
Photo frames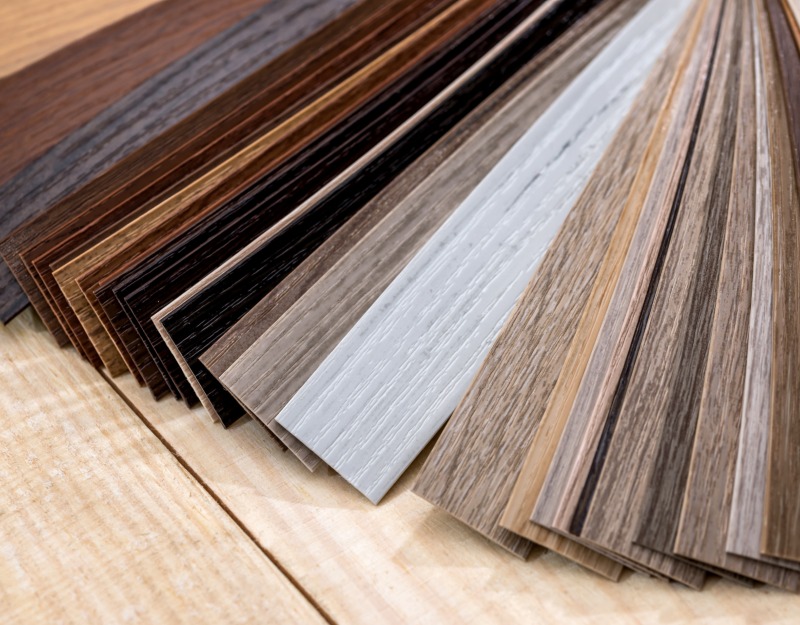 5. Decorative paper
This type of paper may contain acrylic fibres, polyester or other resins, which are added as part of the manufacturing process to improve cohesion.
The paper is then printed and coated with polyurethane, urea, melamine or a combination of these elements to guarantee greater durability and superior performance.
Main areas of application


Shelves
Studio furniture
Wardrobes
Store display cases
Overlays for panels


Machining composite wood panels with decorative surfacing: what tools should be used?
We've seen a brief overview of the main properties and uses of composite wood panels and decorative surfacing.
The great success and growing use of these materials warrants learning more about how they are processed by furniture manufacturers, artisan craftsmen and third-party manufacturers.
While it's true that machines are selected entirely on the basis of the machining operation required (cutting, finishing, edgebanding, etc.) – with no real need to consider the type of panel being processed – when it comes to selecting which tools to use, a more careful evaluation is needed.
As we have seen, composite wood panels are stratified and contain glues and resins that affect their consistency and abrasiveness.
We need to be aware of and carefully evaluate these aspects when selecting which tools to use, otherwise we might damage the finish on the end product, as well as subjecting the machine components to imbalance or "fatigue".
This is where the tool manufacturer's experience comes in handy, especially since the same material/panel may have different properties depending on the country of origin (chipboard in North America may be different from chipboard in South America, for example).
Therefore, we need to consider the type of machining operation, the material and the thickness of the panel before selecting the appropriate tool.
As we just mentioned, when machining composite panels and decorative panels, the machine selected will vary on the basis of the machining operation desired: nesting or routing, which are discussed in great detail in the article on how to select the best cutters for CNC routers, or boring, cutting or edgebanding operations.
Once the machine has been selected, we can decide on the proper cutting edge for the tool, opting for polycrystalline diamond or tungsten carbide.
To learn more about the features of polycrystalline diamond tools and to better understand which PCD or tungsten carbide cutters you should select, refer to the dedicated article.
Each of these considerations will impact the quality of the machining operation.
Over the years Wirutex has developed significant first-hand experience with composite wood panels, from stratified panels to the more recent additions, such as panels with decorative films. On the basis of this experience, our tools have been adapted to the "structural" changes that have been made to these products.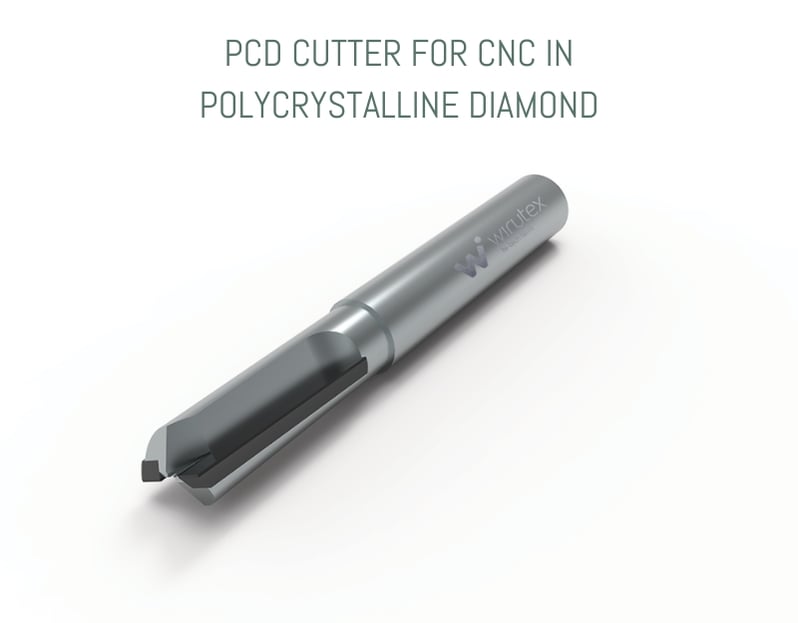 A tangible example is provided by the PCD Cutter for CNC in polycrystalline diamond.
What started out as a tailor-made cutter for a customer who works with very abrasive materials has become a specific tool for these materials. The cutter is particularly indicated for canals, finger joints and rebating and offers a high quality finish and excellent durability.
Ultimately, Wirutex offers a vast assortment of products for the machining of composite wood panels, including panels with decorative surfacing: customers who are seeking solutions for their home or business that are elegant, innovative and never dull will be completely satisfied.